Behold - Ishtar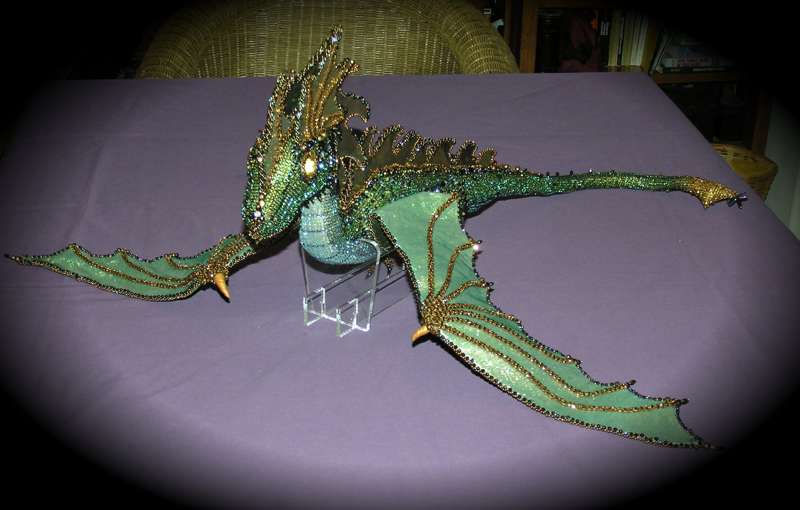 Born in the flames of primeval Earth, long before the dawn of history.
She was the most brilliant jewel flying high in the skies, roaming wherever the winds and the search for gleaming gems took her.
While sleeping in her lair, surrounded by her horde of rubies and sapphires and diamonds and such, a terrible upheaval of the earth left her buried far beneath the surface. There she went into a long, slow sleep.
Millennia passed and a new cracking of the ground opened up a fissure through which Ishtar could escape. Again she was free to feel the wind under her wings, to soar through the skies she had long missed.
But what of her kind, the other dragons she'd frolicked with and fought with and hoped to mate with? They are all long gone from this time. She is alone.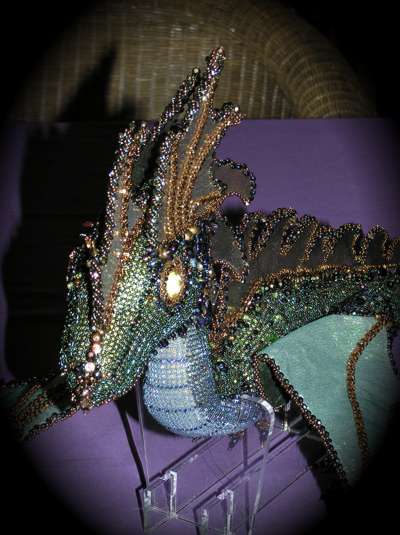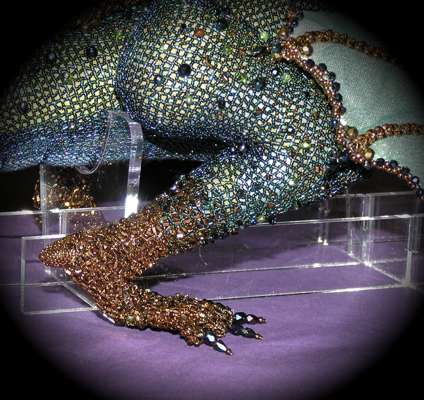 Press Release from Tambrook Bead and Trade - 17 Aug 2006
Tambrook Bead and Trade of the US and TOHO Beads of Japan have just completed the judging for the "Treasures of TOHO" a beading competition. There were 4 categories of entry with the winner of each category awarded roundtrip tickets for two to Hiroshima, Japan. Hotel, meals and ground transportation are also provided.
The winners of the contest are:
Sculptural Art: Christina Manes, Rapid City, South Dakota

Non-Wearable Art: Wendy Hubick and Sue Jackson, Morton Grove, Illinois

Wearable Art: Tatiana Van Iten, Hanover, Indiana

All AIKOs: Judy Walker, Monrovia, California
The winners will be guests of TOHO Co for 5 nights and will have a full schedule. They will have one day to tour the factory where TOHO produces their beautiful glass beads. Another day will be spent at Miyajima, one of the 3 most beautiful sites in Japan; it is on an island in the Seto Inland Sea. A free day will be provided for winners to take in sites around Hiroshima – visiting Peace Memorial Park, shopping and relaxing. On the last full day in Hiroshima several of the winners will teach their beading techniques to Japanese beaders.
The entries were judged on their overall look, use of color, mastery of technique/stitches, finishing touches and use of materials, sturdiness/longevity and overall creativity & originality. Thank you to everyone who entered and Congratulations to the winning pieces.
Comments or Questions? Send your e-mail to Chris Manes

This beadwork pattern and finished beadwork Copyright 2006 Christina Manes.
"A Muse Ink" and the dancing figure are trademarks of A Muse Ink. The dancing figure Copyright 2000 Christina Manes. All rights reserved.